Biweekly virtual series on Intracellular Phase Transitions and Biomolecular Condensates
Here you will find soon all info about the speakers and the zoom links for the upcoming seminars.
Be invited to join and hear from a diverse set of speakers and to participate in discussions!
Those interested to join the CCS mailing list to receive the seminar links via email should send an request to clutz[at]uni-mainz.de with the simple subject line  "Please add me to the CCS mailing list".
Zoom link for the upcoming seminar on Tuesday, August 3, 2021:
https://us02web.zoom.us/j/89835256985?pwd=SW5HUmJnaFR0TUlod1NubkRIUnNHdz09
Meeting ID:   898 3525 6985
Passcode:     079052
Time
US:                    10:00 ET – 09:00 CT – 07:00 PT
Europe:           16:00 CET/CEST – 15:00 GMT/+1GMT
Schedule for year one of the CCS:
| | | |
| --- | --- | --- |
| Date | Speaker 1 | Speaker 2 |
| July 06, 2021 | Amy Gladfelter | Julia Mahamid |
| July 20, 2021 | Sabine Petry | Ritwick Sawarkar |
| August 03, 2021 | Saumya Saurabh | Jerelle Joseph |
| August 17, 2021 | Julie Forman-Kay | Jeffrey Woodruff |
| August 31, 2021 | Tanja Mittag | Alex Holehouse |
| September 14, 2021 | Anthony Hyman | Arnauld Hubstenberger |
| September 28, 2021 | Steven Boeynaems | Nirnay Samanta |
| October 12, 2021 | Christine Mayr | Priya Banerjee |
| October 26, 2021 | Richard Kriwacki | Nicole Francis |
| November 09, 2021 | Geraldine Seydoux | Christoph Weber |
| November 23, 2021 | Andrea Putnam | Heather Meyer |
| January 04, 2022 | Michael Rosen | Dimple Notani |
| January 18, 2022 | Simon Alberti | Shana Elbaum-Garfinkle |
| February 01, 2022 | Sua Myong | Sara Cuylen-Haering |
| February 15, 2022 | Lars Hubatsch | Thomas Quail |
| March 01, 2022 | Tuomas Knowles | Stephanie Weber |
| March 15, 2022 | Clifford Brangwynne | Dora Tang |
| March 29, 2022 | D. Allan Drummond | Carlos Castaneda |
| April 12, 2022 | Mainak Bose | Ann Boija |
| April 26, 2022 | James Shorter | Huaiying Zhang |
| May 10, 2022 | Frank Jülicher | Rosana Collepardo |
| May 24, 2022 | Arup Chakraborty | Paolo Arosio |
| June 07, 2022 | Matthew King | Titus Franzmann |
| June 21, 2022 | J. Paul Taylor | Asifa Akhtar |
| July 05, 2022 | Rohit Pappu | David Zwicker |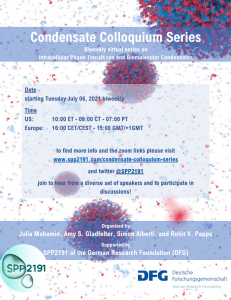 ---